Today we welcome the amazing Jonathan Lister to the stage to talk about some of his favorite novels.
(We're plugging his great new work too, so check it out at the bottom of this post!)
Take it away John …
The category of my favorite books, or my top 10, is a shifting boundary. Every time I pick up something new, that one volume is my new favorite for the duration of its pages. It's rare I put one down after refusing to finish it. Though, there are volumes I return to regularly, even while writing Bullet, a Demos City Novel, as polestars for my own scribbles. Here's my current roster of favorites, which could change at any moment.
10. Oryx and Crake – Margaret Atwood
No one writing in our time has Atwood's depth of prose or the ability to create anxiety about a revisionist future based in unfortunate fact. She doesn't put words on the page so much as she wields them. Nothing is out of place, extraneous or less than brilliant.
9. Norton Anthology of Postmodern Poetry
That's right. Poems. An entire book of them big enough to kill any insect that dare show its face in your home. This book came my way in grad school, and informed the majority of my writing during that time and more than a few years after. Everyone with work in here has shaped the conversation at one major level or another.
8. Of Love and Other Demons – Gabriel Garcia Marquez
Another book I picked up as required reading and never managed to give up. The magical realism of Marquez is the foundation of any fantasy work I do — rooted in cultural expression with a deft mingling of the supernatural. If you want to know pain and real sorrowful beauty, pick up just about anything this man has written.
7. Dragons of Autumn Twilight — Margaret Weis & Tracy Hickman
It all begins at an inn. Shouldn't every adventure? As a teenager, this book made it cool for me to read again. Every character bristled with life and desires that were deeply interesting to me. I didn't read this book, or the other two that followed in the trilogy, I absorbed them.
6. The Gun Seller — Hugh Laurie
Full disclosure: I have a massive man crush on the former Dr. Gregory House. His novel about the military industrial complex is hard-boiled fiction at its finest. It's not too full of itself and definitely not boring. It asks a pointed question amidst the bullet-dodging and damsel wooing: Are you a good man?
5. Mary, Called Magdalene — Margaret George
I'm well aware of all the Margaret's on this list, but they've earned it. George's creative telling of the biblical figure still shrouded in mystery is voluminous and damn interesting. It tells so many stories embodied in a single text: coming of age, womanhood, arriving at the self, and subversion.
4. Time of the Twins — Margaret Weis & Tracy Hickman
Raistlin Majere is one of my favorite characters of all time. The quintessential antihero who desires power and independence above all else, he even reshapes time and murders gods to get what he wants. But in the end, evil cannot create.
3. The Black Company — Glen Cook
Want to know what it's like to be a foot soldier in a war involving resurrected sorcerers and their dread armies? Look no further than Cook's multi-volume saga. It's high fantasy told from the point of the common man, which proves to be more entertaining than a prince's view, in my opinion.
2. I, Lucifer — Glen Duncan
First person point of view: Satan. Duncan's voice crafting is off the charts good and something I aspire to while bumbling about in my own work. This book is entertaining even as it aspires to literary heights. Checkout the subtext, the very earthly desires ol' Lucie says he wants versus what he's actually after.
1. Good Omens — Neil Gaiman & Terry Pratchett
So good. The archetypical page-turner with wit and depth of character to spare. Again, this is the type of work that tells a serious story without beating doom and gloom drums all over the place. Even if you're writing about the end of the world, people still laugh.
About our guest …
Jonathan Lister
http://iJonathanlister.wordpress.com
Jonathan Lister is a full-time writer with work appearing in outlets of USA Today, The Houston Chronicle and many others. A graduate of the Jack Kerouac School of Disembodied Poetics at Naropa University, he's waited an unspeakable amount of tables en route to having the career he wants, and the ability to the tell stories he loves. Crossroads is Jonathan's first book-length work of fiction. He currently lives in the Philadelphia area and continues to drink too much coffee.
And his books are here: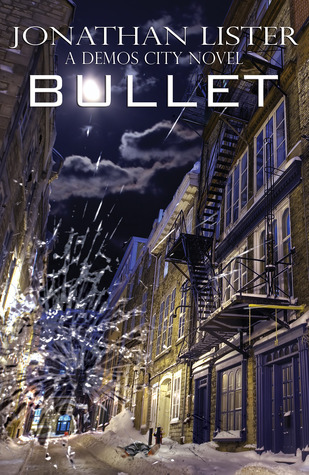 Amazon: http://www.amazon.com/Bullet-Demos-City-Novel-Book-ebook/dp/B00KWHK8PI/
B&N: http://www.barnesandnoble.com/w/bullet-jonathan-lister/1119709414
Kobo: http://store.kobobooks.com/en-US/ebook/bullet-9