Hi everyone!
I want to share a romantic new book out by my 'Sister of the Traveling Pens' partner and author extraordinaire, Terri Rochenski.
The book is getting fantastic reviews, yo. Check it out!
Title:  Love's Sorrow (Means of Mercy #1)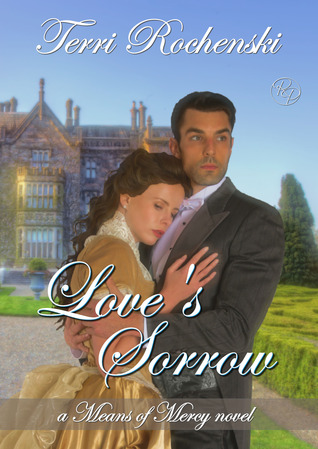 Publisher:  Roane Publishing
Release Date:  April 21, 2014
Keywords:  Sweet, Historical Romance
Blurb:
Hired as a nanny for her cousin's children, Anne Tearle finds security and a loving family. The children are a dream, but London society is a world of its own, one where a displaced farm girl has no business being. But, wealthy rake, Gavin MacKay, helps her to see associating with the upper class might not be as horrid as she first assumed.
Like all things worthwhile, love comes at a price, and the cost soon bestows more anguish than joy. Lost, but not undone, Anne must find the courage to begin life anew, or succumb to sorrow's unrelenting waves of grief.
Woot! For giveaway enter here:
http://www.rafflecopter.com/rafl/share-code/ZmUzYjUwNjc0NTRmNGVkMzI3MzAzNzg5MjM4YmZiOjQ=/
Bio:
Terri started writing stories in the 8th grade, when a little gnome whispered in her brain. Gundi's Great Adventure never hit the best seller list, but it started a long love affair with storytelling.
Today she enjoys an escape to Middle Earth during the rare 'me' moments her three young children allow. When not playing toys, picking them back up, or kissing boo-boos, she can be found sprawled on the couch with a book or pencil in hand, and toothpicks propping her eyelids open.
Ms. Rochenski's Links:
Website / Blog / Facebook / Twitter / Goodreads
Link for Love's Sorrow on Goodreads:
https://www.goodreads.com/book/show/21455386-love-s-sorrow
And now without further ado …
here are Terri's top ten romantic book moments!
1. Darkness & Light by J. A. Belfield  –  "My name's Sean, Jem. I'm Sean."  *swoon*
2. Devil In Winter by Lisa Kleypas  –  Who doesn't love a story of a girl marrying to escape the clutches of an evil family? When Viscount St. Vincent rescues Evangeline…sigh.
3. The Time Traveler's Wife by Audrey Niffenegger  –  While a lot of reviews complain of the decade jump in the final chapter, I enjoyed that moment Clare knows Henry is finally gone for good. Sad, but oh so romantic.
4. Jane Eyre by Charlotte Brontë  –  When Jane returns to find Mr. Rochester and loves him regardless of his hideous disfigurement and blindness.
5. The Notebook by Nicholas Sparks  –  When Allie finally recognizes Noah over dinner and tells him that she loves him. Major tears.
6. Redeeming Love by Francine Rivers  –  The entire book really, but especially when Sarah kneels before Michael's feet in the end.
7. Dreaming of You by Lisa Kleypas  –  Derek Craven's melt down.
8. Outlander by Diana Gabaldon  –  This book had a few, but when Jamie insists Claire returns to Frank and she decides to stay is one of the best choices ever made by a fictional heroine IMO.
9. The Thorn Birds by Colleen McCullough  –  When Meggie and Father Ralph finally figure it out. Sure, it causes a boat load of heartache, but that's what we desire as readers, isn't it?? Well except for him dying in her arms.
10. Romeo and Juliette by William Shakespeare-  Of course this one MUST be on the list.  "For never was a story of more woe / Than this of Juliet and her Romeo."
Sigh, those sound fantastic, and so does your new book 🙂 
Thanks so much for stopping by, Terri!  ♥