I will be in Savannah, GA with Month9Books pub sister
Jennifer Jenkins @

authorjenkins

for this event.
♦♦♦♦♦
Please come by and say hello!
No, really. Please.
 (I'll be the one fangirling in the corner over all the
amazing authors I'm super excited to appear with.)
I'll need someone to help calm me down! 
Were going to have a blast!
Check it out … 
When: February 26th – 28th
(The book signing will run all day February 27th!)
 Here's more information:
Facebook: https://www.facebook.com/apollycon/?fref=ts
Apollycon 2016: http://www.eventbrite.com/e/apollycon-2016-the-power-by-jennifer-l-armentrout-release-party-tickets-17295152266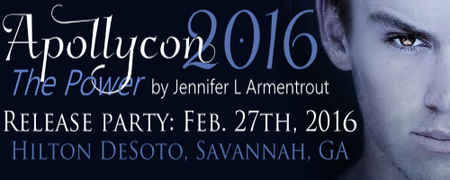 FEATURING AUTHORS…
*Subject to change
Hope to see you there!