Welcome to the 10th YA Scavenger Hunt!
Welcome! I'm Julie Reece,
your host for this stop on the hunt.

You are currently hunting on
TEAM GOLD!
At this hunt, you not only get access to exclusive content from each author, you also get a clue for the hunt. Add up the clues, and you can enter for our prize–one lucky winner will receive one signed book from each author on the hunt in my team!
 YA Scavenger Hunt is a bi-annual event first organized by the super-awesome author Colleen Houck as a way to give readers a chance to access exclusive bonus material from their favorite authors…and a chance to win some awesome prizes! At this hunt, you not only get access to exclusive content from each author, you also get a clue for the hunt.
Play fast, ya'll! This contest (and all the exclusive bonus material) will only be online for 72 hours!
SCAVENGER HUNT PUZZLE RULES
Directions:
Below, you'll notice that I've listed my favorite number somewhere in this post. Collect the favorite numbers of all the authors on TEAM GOLD, and then add them up (don't worry, you can use a calculator!)
HINT: THE SECRET NUMBER IS HIGHLIGHTED IN

GOLD

!
Entry Form:
Once you've added up all the numbers, make sure you fill out the form here to officially qualify for the grand prize. Only entries that have the correct number will qualify.
Rules:
Open internationally, anyone below the age of 18 should have a parent or guardian's permission to enter. To be eligible for the grand prize, you must submit the completed entry form by October 4, at noon Pacific Time. Entries sent without the correct number or without contact information will not be considered.
There are EIGHT contests going on simultaneously, and you can enter one or all! I am a part of the GOLD TEAM, but there is also a RED TEAM, PINK TEAM, PURPLE TEAM, ORANGE TEAM, TEAL TEAM,  BLUE TEAM & GREEN TEAM! Check out each team for a chance to win eight different sets of signed books!
If you'd like to find out more about the hunt, see links to all the authors participating, and see the full list of prizes up for grabs, go to  the YA Scavenger Hunt page.
Now that the rules are out of the way, we can get on to the SCAVENGER HUNT PUZZLE.
I'm so excited to be hosting … dun, dun daaaa …
 T.A. Maclagan!
Bio: T.A. Maclagan is a Kansas girl by birth but now lives in the bush-clad hills of Wellington, New Zealand with her Kiwi husband, son and four pampered cats. With a bachelor's degree in biology and a Ph.D. in anthropology, she's studied poison dart frogs in the rainforests of Costa Rica, howler monkeys in Panama and the very exotic and always elusive American farmer. It was as she was writing her 'just the facts' dissertation that T.A. felt the call to pursue something more imaginative and discovered a passion for creative writing.
For more information you can find her online at:
The book  is showcasing in the YA Scavenger Hunt this season is her very first novel
They Call Me Alexandra Gastone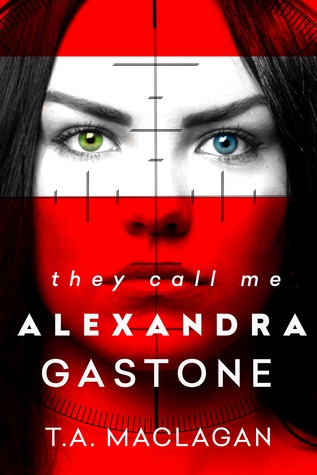 Blurb: Alexandra Gastone has a simple plan: graduate high school, get into Princeton, work for the CIA, and serve her great nation. She was told the plan back when her name was Milena Rokva, back before the real Alexandra and her family were killed in a car crash.
Milena was trained to be a sleeper agent by Perun, a clandestine organization from her true homeland of Olissa. There, Milena learned everything she needed to infiltrate the life of CIA analyst Albert Gastone, Alexandra's grandfather, and the ranks of America's top intelligence agency. For seven years, "Alexandra" has been on standby and life's been good. Grandpa Albert loves her, and her strategically chosen boyfriend, Grant, is amazing. But things are about to change. Perun no longer needs her at the CIA in five years' time. They need her active now.
Between her cover as a high school girl—juggling a homecoming dance, history reports, and an increasingly suspicious boyfriend—and her mission in this high-stakes spy game, the boundaries of her two lives are beginning to blur.
Will she stay true to the country she barely remembers, or has her loyalty shattered along with her identity?
Wow! How much do you love that cover, people? And the blurb makes me want to read it even more! I'd give away >> 22 << birthday wishes to have it in my hands right now!!! Did you see what I did there? With the number >> 22 <<?
~ EXCLUSIVE CONTENT ~
Take a look at the awesome book trailer for They Call Me Alexandra Gastone here:
 Don't forget to enter the contest for a chance to win a ton of signed books by lots of great YA authors.
I'm over at Colleen Houck's
blog!
  Add up all the favorite numbers of the authors on the GOLD TEAM and you'll have all the secret code to enter for the grand prize!
Check out my individual giveaway!
I'm gifting 5 ebook copies of my YA Gothic romance, The Artisans through either Amazon or B&N!
Then leave a comment about the next book you want to read,
and your email address,(so I can contact you if you win).
That's it!
3 winners will be chosen at random on October 5th by my cat's paw.
Yes, I'm completely serious.
♥ Thanks so much for stopping by! XOXO
~ CONTINUE THE HUNT ~
To keep going on your quest for the hunt, you need to check out the next author