Welcome in! I'm so excited to be a part of this blog tour for the amazing E.M. Fitch and her new book! I've got more tour stop dates, an excerpt and special giveaway here, so don't forget to scroll down and enter the contest near the bottom of the post!
Now to get on with it. Have you seen this cool and freaky cover yet?
I love the vibe!
Title: OF THE TREES
Author: E.M. Fitch
Pub. Date: February 28, 2017
Publisher: Month9Books
Format: Paperback, eBook
Pages: 345
Where to get it:
Goodreads | Amazon | B&N | TBD | iBooks | Kobo | Google Play Books | Indiebound
Watch the author's  video about her book here:
Blurb:
Cassie and Laney fancy themselves amateur ghost hunters. When a carnival comes to town, Cassie embraces the chance to try something new.
Carnival workers watch the girls with a collective gaze that ignites in Laney a dark and dangerous fascination, leaving Cassie unnerved.
It's not just their age or the unsettling way they stare. There is something in the shifting of their skin and the way their features seem to change in the shadows.
Cassie can's shake this sickening feeling that there's more to the carnival than meets the eye.
When townspeople suddenly start dying and bloody warnings appear around town, Cassie is lured into a nightmare where trees whisper and strange, shape-shifting men haunt the backwoods she once hunted for ghosts with her best friend.
Then Laney goes missing, and only Cassie can get her back. But the creatures of the trees aren't simply going to hand Laney over to Cassie without getting something in return.
Here's more about the author … 
E.M. Fitch is an author who loves scary stories, chocolate, and tall trees. When not dreaming up new ways to torture characters, she is usually corralling her four children or thinking of ways to tire them out so she can get an hour of peace at night. She lives in Connecticut, surrounded by chaos, which she manages (somewhat successfully) with her husband, Marc.
Website | Facebook | Twitter | Instagram | Goodreads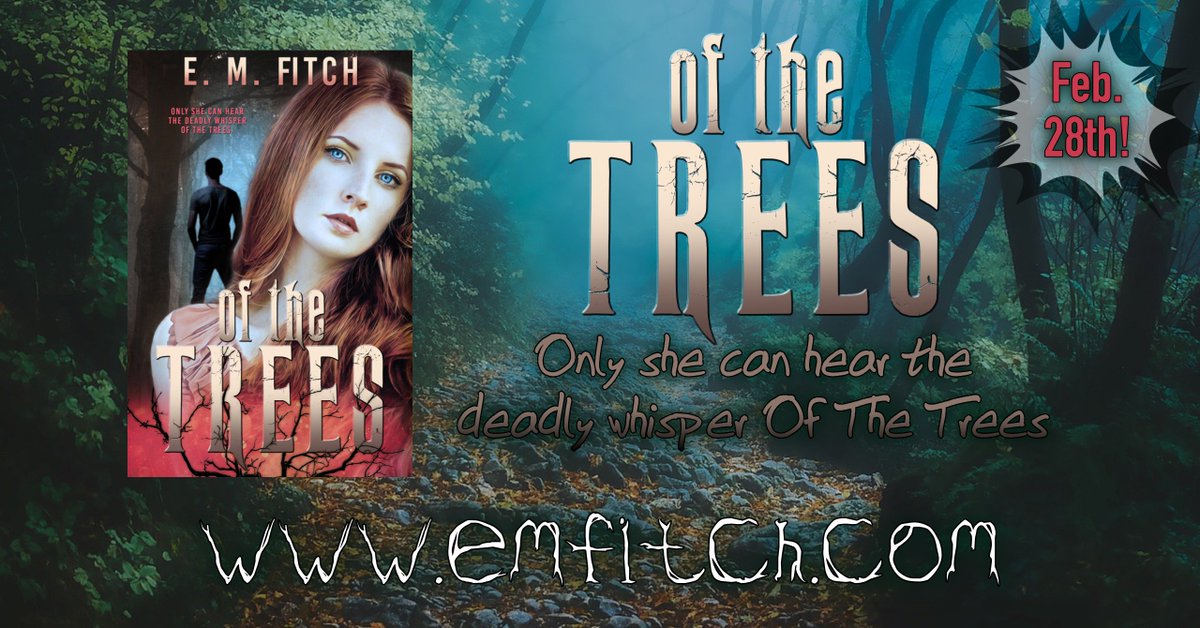 Giveaway!
1 winner will receive a $25 Fandango Gift Card, US Only.
Rafflecopter:
http://www.rafflecopter.com/rafl/share-code/ZTIzODliYTI4ZTEzMGVjODBhNzA2MmFmMTU3YWM3OjU1MQ==/?
Excerpt:
Cassie's boots crunched on the gravel, the grating noise cutting through the faint undertone of laughter and squeals that were just up ahead. Her imagination always went into overdrive during these isolated, dark moments. She knew it, and sometimes the little movements everyone saw out of the corner of their eyes took on a life of their own. So she ignored it, not wanting to give life to the fear.
Laney was different. She'd run into the shadows and flush out the monsters, which would, of course, invariably turn out to be a rabbit, or bird, or the errant flash of light cast from someone's wristwatch. It was always explainable. Even knowing that, Cassie wasn't one to tempt fate. She preferred to let sleeping monsters lie.
"Have a light?"
Cassie jumped, not really expecting a voice from the dark. From between two cars, a shadow solidified. A boy stepped forward, his jeans smeared with grease and his dark hood up over his head and hanging down past his brow. She could just make out the sandy hair that hovered over the piercing, blue eyes. He stared at her as he stepped closer, his gaze sharp in the darkness.
Or was it a man? Now that he drew nearer, the lines of boyhood seemed to melt. His face was older, drawn. There were creases in the folds of his skin that she hadn't noticed at first. Somehow, it seemed like he was wearing a cheap Halloween mask, something rubber made to emulate human skin, and suddenly she was terrified, a feeling of danger rising up from her core.
"No, sorry," she stammered, stepping back.
He stepped with her.
She jumped again when a car horn blared and turned to see her father still parked there, his outline peering at her through the dark. A chuckle echoed from the shadows, and Cassie shivered, even in the unseasonable warmth.
"Got to go, sorry," she said. The man stared, his head tilting slightly as he regarded her. He didn't speak, and yet Cassie got the strange impression he was trying to communicate with her anyway.
Creepy right? The sort of creepy that's right up my YA thriller/horror alley. I can't wait to start reading this one, ya'll.
Hope you enjoy and thanks so much for stopping by! 
By the way … if you want to follow more of the tour, all the dates are listed below!
Week One:
2/27/2017- Lisa's Loves(Books of Course)– Interview
2/27/2017- Never Too Many To Read– Review
2/27/2017- Julie Reece– Excerpt
2/28/2017- Tales of the Ravenous Reader– Guest Post
2/28/2017- Book Review Becca– Review
3/1/2017- Two Chicks on Books– Interview
3/1/2017- Omg Books and More Books– Review
3/2/2017- Always & Forever Fangirling– Excerpt
3/2/2017- Bookaholic Banter– Review
3/3/2017- Rockin' Book Reviews– Guest Post
3/3/2017- Quantum– Review
Week Two:
3/6/2017- LILbooKlovers– Interview
3/6/2017- Don't Judge, Read– Review
3/7/2017- The Book Adventures of Annelise Lestrange– Excerpt
3/7/2017- Book Lovers Life– Review
3/8/2017- Hidden Worlds Books– Guest Post
3/8/2017- Book-Keeping– Review
3/9/2017- Bibliobibuli YA– Interview
3/9/2017- StephanieCassidyBlog– Review
3/10/2017- So Few Books– Interview
3/10/2017- I am not a bookworm!– Review