See the full Tour Schedule here:
http://www.chapter-by-chapter.com/blog-tour-schedule-nobodys-lady-never-veil-2-by-amy-mcnulty/
Whoo hoo! SO excited to have Amy on the blog today to chat. Here's the awesome cover of book two. And don't forget to enter for a chance to win a digital copy of Nobody's Lady later in the post.
Link to Goodreads:
https://www.goodreads.com/book/show/25745858-nobody-s-lady
Purchase Links:
Google Play | BAM | Chapters | Amazon | B&N | TBD | iBooks
Hey Amy! Welcome. 
So, we asked Amy … Can you describe your writing process, and whether you are you a plotter or a panster, how did that process help or hurt as you wrote/write a sequel or trilogy, what did you enjoy most, and what was the hardest part of writing Nobody's Lady, what do you hope readers come away with after ready this series. 
Here's Amy's reply ~
When I wrote the first draft of Nobody's Goddess, I was a total pantser. I was a pantser for the mess I worked on for nine years before that as well (now shelved, although parts of it inspired Nobody's Goddess).  I wrote the first draft of Nobody's Goddess in just nine days! However, it went through many, many, many revisions after that before publication, so the work was far from over.
When I was offered representation by my former agent, we discussed the idea of making the book a series and he asked me to write outlines for books two and three so he could show them to any editors who were interested in the first book. This was the first time I wrote outlines for any of my projects, and I was surprised to find it wasn't impossible or even limiting. After a brainstorming session, the plot just flowed out of me and I went ahead and wrote the first three chapters—and then had to put it all aside for a year and a half before I got an offer and the go-ahead from my publisher to write them.
Meanwhile, I tried writing one more manuscript without outlining and I got stuck at the end—so stuck I shelved it. I remembered how I liked outlining (although I'd yet to use an outline to write a manuscript) and vowed to always outline from then on. I allow myself to go off outline when I come up with something better on the fly, but at least I always have that basic framework in place to fall back on. (It's not foolproof, though. The second time I attempted that aforementioned shelved manuscript even with an outline, I still got stuck and shelved the second version. I don't know if I'll ever get that story written.)
When it was time to write the second and third books in The Never Veil Series, the outlines were immensely helpful. Before then, I had only a vague idea of how to sustain an entire series, but with the outline, I knew how to build to each climax and plant the seeds for the overall themes and issues. However, the hardest part of writing Nobody's Lady was trying to inject some life into the middle book. (It also took me the longest to draft out of any of the books in the series—nine days for book one, a month and a half for book three, and four months for book two, the shortest in the series!) The first book introduced the world and the conflict and I was really looking forward to writing the third book and resolving everything, but the second book still had to stand on its own. Luckily, I had a theme to focus on: the characters adapting to the huge change that occurred in their village at the end of the first book. I also enjoyed discovering who certain characters really were, as this book was the first time they could truly be themselves. (I was surprised they weren't as nice and easygoing as I originally wrote them when they were under the control of magic!) I hope readers come away with a new perspective on the first book and ask themselves if the "happy" relationships were really happy, considering the men in the village were forced to fall in love. By the end of the series, I hope they've thought about gender roles and what it means to love someone on equal footing.
That's awesome, thank you so much for your insights and for being here today. 🙂 
Nobody's Lady (Never Veil #2) by Amy McNulty
Publication Date: April 12, 2016
Publisher: Month9Books
Blurb:
For the first time in a thousand years, the men in Noll's village possess the freedom to love whom they will. In order to give each man the chance to fully explore his feelings, the lord of the village decrees all marriages null and void until both spouses declare their love for one another and their desire to wed again. What many women think will be a simple matter becomes a source of village-wide tension as most men decide to leave their families and responsibilities behind.
Rejected by the lord and ashamed of her part in the village's history, Noll withdraws from her family and lives life as an independent woodcarver. This changes when her sister accuses her of hiding her former husband Jurij from her—and when Jurij eventually does ask to move in. Determined not to make the same mistakes, Noll decides to support her male friends through their new emotional experiences, but she's soon caught up in a darker plot than she ever dared imagine possible from the men she thought she knew so well. And the lord for whom she still has feelings may be hiding the most frightening truth of them all.
Giveaway Information:  Contest ends April 15, 2016
Five (5) winners will receive a digital copy of Nobody's Lady by Amy McNulty (INT)
Enter contest here: 
http://www.rafflecopter.com/rafl/display/c08c9e8e531/?
OTHER BOOKS IN THE SERIES: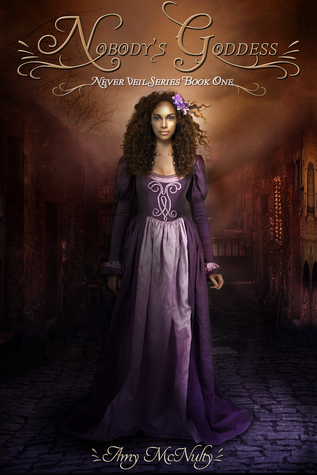 Blurb:
In a village of masked men, magic compels each man to love only one woman and to follow the commands of his "goddess" without question. A woman may reject the only man who will love her if she pleases, but she will be alone forever. And a man must stay masked until his goddess returns his love—and if she can't or won't, he remains masked forever.
Seventeen-year-old Noll isn't in the mood to celebrate. Her childhood friends have paired off and her closest companion, Jurij, found his goddess in Noll's own sister. Desperate to find a way to break this ancient spell, Noll instead discovers why no man has ever chosen her.
Thus begins a dangerous game between the choice of woman versus the magic of man. And the stakes are no less than freedom and happiness, life and death—and neither is willing to lose.
Link to Goodreads:
https://www.goodreads.com/book/show/20561819-nobody-s-goddess
Purchase Links:
Google Play | BAM | Chapters |Indies | Amazon | B&N | Kobo |TBD| iBooks
About the Author
Amy McNulty is a freelance writer and editor from Wisconsin with an honors degree in English. She was first published in a national scholarly journal (The Concord Review) while in high school and currently writes professionally about everything from business marketing to anime. In her down time, you can find her crafting stories with dastardly villains and antiheroes set in fantastical medieval settings.
Website | Twitter | Facebook | Pinterest | Goodreads