Howdy!
Here's my GMMG summer read, part two …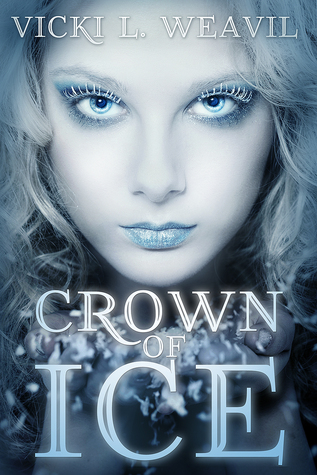 Amazon: http://www.amazon.com/gp/product/1939765439/ref=x_gr_w_glide_bb?ie=UTF8&tag=x_gr_w_glide_bb-20&linkCode=as2&camp=1789&creative=9325&creativeASIN=1939765439&SubscriptionId=1MGPYB6YW3HWK55XCGG2
Have you read this one yet?
I'm in LOVE with the cover!
Blurb:
Thyra Winther's seventeen, the Snow Queen, and immortal, but if she can't reassemble a shattered enchanted mirror by her eighteenth birthday she's doomed to spend eternity as a wraith. Armed with magic granted by a ruthless wizard, Thyra schemes to  survive with her mind  and body intact.
Unencumbered by kindness, she kidnaps local boy Kai Thorsen, whose mathematical skills rival her own. Two logical minds, Thyra calculates, are better than one. With time rapidly melting away she needs all the help she can steal. A cruel lie ensnares Kai in her plan, but three missing mirror shards and Kai's childhood friend, Gerda, present more formidable obstacles. Thyra's willing to do anything – venture into uncharted lands, outwit sorcerers, or battle enchanted beasts – to reconstruct the mirror, yet her most dangerous adversary lies within her breast.
Touched by the warmth of a wolf pup's devotion and the fire of a young man's desire, the thawing of Thyra's frozen heart could be her ultimate undoing.
What people are saying …
"Everyone in this book, from the dastardly magician to the plucky "heroine" Gerda, have nuances that elevate their actions from fairy tale caricature to genuine characters." ~ Julia, All Things Urban Fantasy

"CROWN OF ICE is such a fascinating fantasy, with love adventure and enjoyable characters. I recommend for all fans of fantasy!" ~ Tonyalee, Lilybloombooks

"I was over the moon about getting to know a protagonist who was so unique and compelling. Thyra Winter is a character I won't soon forget!" ~Micheline, Lunar Rainbows Reviews

About the Author:
Vicki L. Weavil is represented by Jennifer Mishler of The Literary Counsel. Her Young Adult Fantasy, CROWN OF ICE — a dark YA retelling of H.C. Andersen's "The Snow Queen" — is published by Month9Books. Her YA SciFi — FACSIMILE — will be published by Month9Books in 2016, with a sequel to follow. She also writes adult Sci-Fi.
Links:
Twitter: @VickiLWeavil
Website: http://vickilempweavil.com/
Goodreads: https://www.goodreads.com/author/show/7091425.Vicki_L_Weavil
Can't wait to read this one!
How about you?